Hebat. Now everyone
can fly
wants to join the bandwagon. Beberapa hari lepas, ramai berebut nak share link website berkenaan
illuminati
conspiracy theory, iklan raya and so on. Tapi hari ini, ramai nak share link website yang counter all these theory, or specifically on the TV advert. Padahal sebelum ni koranglah yang beria-ria nak sebarkan link teori-teori tu, sekarang nak share pulak yang opposite opinion?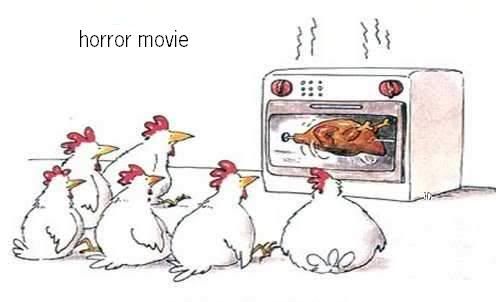 bak kata pepatah, "Seperti Ayams Menonton Horror Movie"
Lain kali, kalau kita tidak yakin dengan apa yang kita terima, lebih baik jangan
kecohkan
sebarkan dulu.
Baca berulang kali sebelum tekan share.
Aku tengok ramai yang jenis baca saja tajuk, tengok gambar/video sikit terus
rasa klimaks
nak share kat semua orang di facebook dan twitter. Bahaya weh, zaman sekarang ni sedara-mara kita yang muda-mudi sudah pandai IT. Semua ada access facebook, twitter segala kejadah tu. Bayangkan apa akan jadi kalau mereka-mereka yang masih mentah ini terima maklumat yang tidak tahu hujung pangkal ini? Like what
I said before
, nanti Hari Raya dah tak jadi raya. Semua pakat nak sembang teori
mata satu
konspirasi dengan atok nenek diorang kat atas pangkin! (macam cerita pangkin atok)
So keyword untuk entri aku kali ini ialah
Reader's
Digest
. Tolonglah digest, hadam and understand the information that you absorb first before spreading out to the masses. Don't just play around with other people's mind. Ini bukan soal tips blogging atau cara mendapatkan trafik ya'll. It's far more extreme than that.
So please, kawan-kawan jangan cepat melatah ok?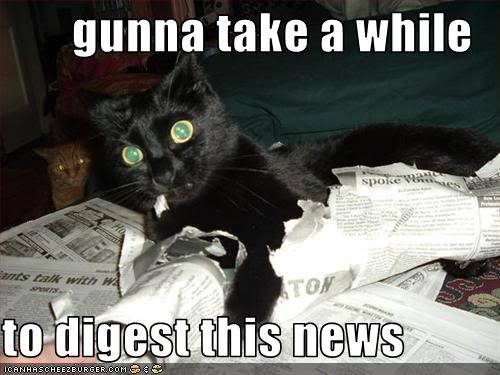 Take your time, pussy