Previously on Heroes FTN..
Yeap, full of "
iPhone 4 Gimme Gimmeh I want one of that
" entries! Don't blame me..Na'ah ah! Blame
Nuffnang
for having this contest. Like I said before, Malaysians love free stuffs! (ok fine, must write entries blabla..bla, but still no $$$ were injured during the process) .
So what's next? Already checked the
iPhone 4
features
here
and read about the numerous apps that's available on iTunes
there
. Now let's go through the data/call plans offered by
DiGi
. So basicly, the cheapest plan by DiGi is iDiGi 88 which only cost
RM58/month
(and that's reduced from RM63 after Auto Billing). What to expect from RM58/month?
<-- important details, please take note -->
this is for real ya'll
200mins of voice calls, 200 SMS, 20 MMS, 1GB of Internet quota! And just incase we've exceed the usage, DiGi only charge 15sen/min for voice calls, 10sen/SMS, and 20sen/MMS. And the best part is we don't get charged if exceeded the monthly internet quota! (but speed is only limited to max 128kbps - so carry on with your facebooking & twittering ya'll!)
Since I'm getting the iPhone 4 for free courtesy of
Nuffnang
&
DiGi
(HAHAHA - this statement expires once the winner is announced! LOLz), I wouldn't have to pay an upfront payment of
RM2,090
(16GB) or
RM2,490
(32GB). There's also an option to buy the iPhone 4 with
Installment Plan
. And all plans are on a 24 month contract tau! Details can be reffered
here
ok? Good--
<-- end of important notes, time for some LOLs -->
To simplify things up, I've come up with this simple yet easy to understand (and even babies could understand. LOL'ed) comparison chart between DiGi's iDiGi88 plan vs telco X (rival company).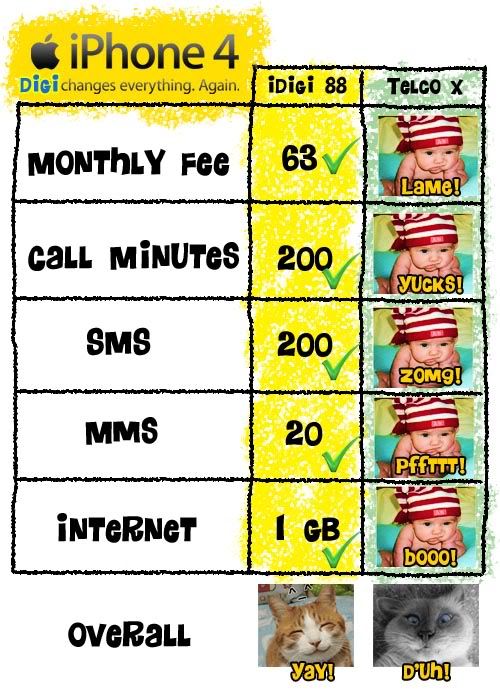 (ok seriously, I spent my lunch time to do this! posa beb posa)
Last but not least, I'll leave you guys with this awesome testimony by a friend. This is what he felt after using DiGi iPhone 4 postpaid plans.
Yeap, TRUE STORY.
p/s : coming up next, the final chapter on the quest for free iPhone 4! will be
LEGEN
..wait for it..
DARY
!