Previously on FTN:
1.
Model Gantian Waja : RM75,000 ~ RM100,000
2.
Model Gantian Waja Semakin Dinanti-nanti
3.
What "Badge Engineering" Means in The Automotive Industry
Sembang pasal kereta memang seronok. Jadi pagi-pagi lagi hari ini dalam suratkhabar, dalam MHI dah melaporkan tentang model terbaru PROTON yang memang dinanti-nanti ramai. Model gantian Waja yang berasaskan model Mitsubishi Lancer tu. Ah, aku rasa ramai dah tahu pun. Informasi tersebar luas di laman blog automotif Malaysia nih.
Dalam UTUSAN 13 Oct menyebut :
Nama model kereta yang diberi nama kod P3-90A ini juga akan diumumkan esok yang dipercayai mendapat 'inspirasi daripada nama tempatan,' manakala pelancaran rasminya ke pasaran ialah pada 10 November ini.
Ah dah cukup hint dah tu.
Officially, price offered will be starting from RM79,xxx onwards (bukan RM75k). That should be for the 1.8L Manual variant. Normally the price difference between manual and auto(cvt) is around RM5k. Jadi, anggaran harga 1.8L CVT should be RM85k. So the highest spec 2.0L CVT with paddle shifter should be around RM90k-RM95k. All in all, it must be below RM100k. Dan itu sudah RM20k lebih murah dari model Mitsubishi Lancer 2.0GT. Menarik!
Stiker hitam dijual berasingan!
White looks nice, nak kasi hitam roof sikit!
First thing, tukar tayar and rim 17inch!
Ini interior Lancer tau! (tapi obviously sama lah)
Dah boleh start booking from 14th Oct onwards. Booking fee is RM1000.
Nama apa? alaah read on!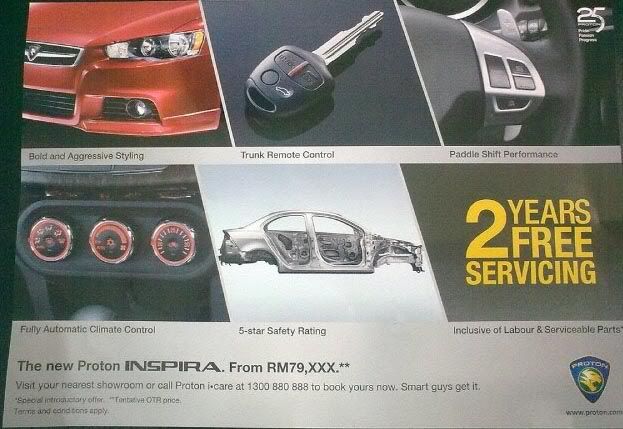 Ok Fine, confirm it's Proton INSPIRA
SOURCE : pelbagai gambar entri ini berpunca dari carian google tau. tqvm