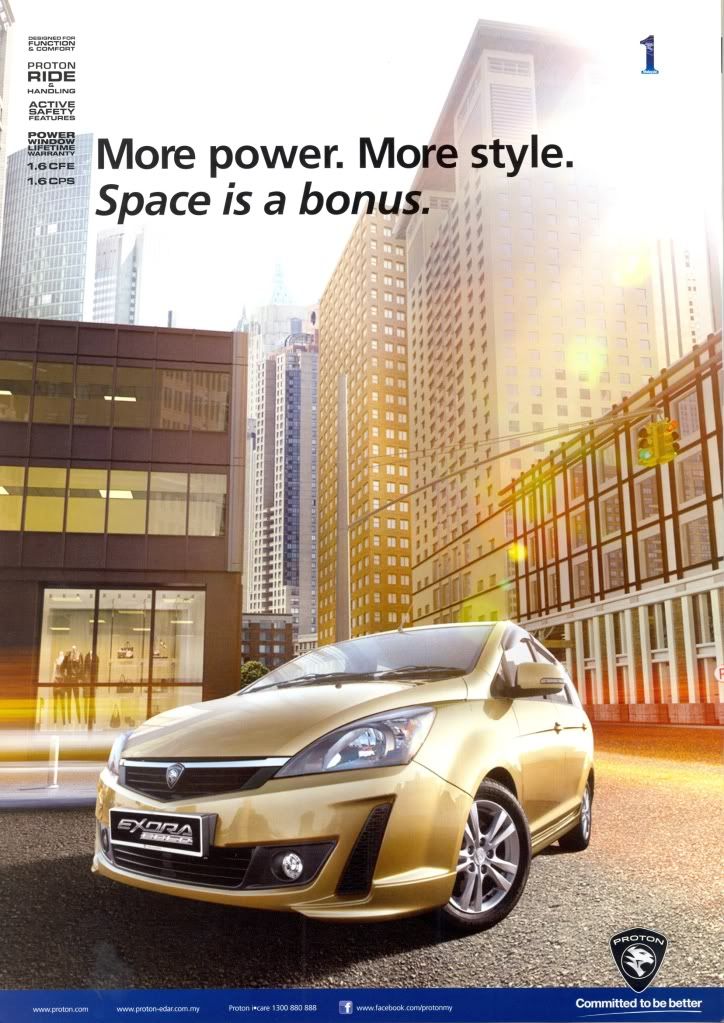 Jujur aku katakan, aku masih teruja dengan Proton Exora Bold. Sampai menjejakkan kaki ke bilik pameran pada hari Sabtu lepas. Melihat gambar-gambar pada brochure saja sudah tentu tidak dapat memuaskan hati. Jadi kena pergi melihat sendiri secara "live" baru dapat feel. Tetapi agak malang sedikit kerana tidak berkesempatan nak test drive secara peribadi sebab masa tak mengizinkan. Kalau tidak pasti sudah boleh buat perbandingan dengan Exora CPS (sebab sudah biasa sangat pandu Exora 1st batch - pre Exora MC)
Bukannya excited nak memiliki MPV ini pun. Bukan. Keluarga aku kecil, rasanya masih belum sesuai untuk memiliki sebuah MPV sebesar ini. Tetapi sebagai seorang peminat automotif sudah pasti aku excited bila PROTON dapat mengeluarkan enjin Campro CFE ini. Yes, faktor CFE ini benar-benar menarik minat aku untuk test drive Exora Bold ini.
Tetapi, sehingga aku dapat peluang tersebut (untuk pandu uji), aku kongsi dulu di sini beberapa snippet ulasan/review mereka-mereka yang sudah pun memandu uji Exora Bold. Sila klik pautan untuk membaca review penuh beserta dengan gambar melalui link masing-masing.
1) Test drive review by forumer Ericmaxman from lowyat.net forum
Proton sure has a winner in the MPV segment. For a 1.6L MPV, this is one of the most powerful and has the most torque, when comparing against local favourites, including the Perodua Alza, Nissan Grand Livina and the Toyota Innova. There are only 2 setbacks that I foresee. One is Proton's brand image. Due to Proton's past, not many people would want to consider a Proton as a new car, but recent offerings from Proton seems to have changed that a lot, and hopefully the Exora Bold can do that. The second is that the reliability of the turbo system. I dare not say how reliable the turbo system fitted into the Exora Bold would be, but if their engineers has done their homework properly, it should last up to 150,000km with little fuss. I'd give the Exora Bold a 17/20. -

read full review here
2) Test drive review by Malaysia Motoring News
There isn't a need to scroll down the article to find out how the Exora Bold has been summed up. In a nutshell, in a sense, the updated Exora is what people (carrier) love the most. It is spacious for 5 adults, plus 2 more can be seated in the 3rd row without major complaints. The storage space is abundance. Practicality is second to none at this price. Driving it is a breeze. It feels very car like, with none of van-like kind of blind spot and cumbersome dynamics. However, it now comes with fangs. No more sluggish mid-range engine speed. It can be easily hustled to merge with faster traffic seamlessly. In a phrase, Proton Exora Bold Premium is now a complete MPV. Period. Check out the driving impression down the articles.




At RM79,998, it is very hard to find a rival worth mentioning. The packaged of spacious interior, full supply of aircond in the cabin, good handling, well-suppressed NVH and a very well-equipped cabin amenities makes the Exora Bold punched well above its price. With the new, more powerful heart, Proton has makes the other competitors (Perodua Alza, Toyota Avanza and Innova, Nissan Grand Livina) appear half-bake. Other than the brand, there's no single aspect of these competitors where the new Exora can't matched. -

read full review here
3) Test drive review by ZenGTMM from blog Mightypeas
ACCELERATION WAS ZOMG! Not Caldina 2.0 GT-Four awesome, but for a 1.6L Campro renown for having an affair with high-end HP and forgetting its torque at home, this certainly makes you rewrite your good books bout the campro engine. Low end torque generously rushed in at a low 2k RPM and the car just kept on accelerating forward like it was a Persona. Driving position felt very sedan like except for the high POV, and having generous amount of space in the cabin extends credibility to its size advantage compared to other MPV. The car accelerates out of corners and traffic light stops at a nice good pace (faster than PE) all the while just maintaining engine speed at between 2k-2.3k RPM. The engine only kicks into higher rev when u push it hard, however high-end power seems a bit lacking as the acceleration is not so willing towards the high-end range when your engine speed goes beyond 5k RPM boundaries. It seems like the turbo was suffering from lack of breath and the car felt like it was sprinting compared to jogging when the power band used was between 2-4k RPM. This is a feeling similar to Evo III engines with TD04 turbines , the power just runs out when the RPM goes into drag racing 5k-6.5k RPM range. No matter how hard I pushed the car I wasn't able to get it to 6k RPM. Weird. Highest ever was 5.5k RPM and it stayed there. At one point of exiting the highway I took a sweeping near 360˚ roundabout at around 90km/h. Now that speed is nothing to shout about, but do that in an MPV taller than most Asians, trust me, my mom was screaming and the SA at the back never appreciated her life more before that turn. Personally that same corner a Veilfire would have lost out in stability and grip as the tires on the Veilfire was screeching like cats in hot soup when speed was just touching 80kmh. Bravo Lotus R&H! -

read full review here
InsyaAllah, nanti aku akan cuba tulis review peribadi pula. Cuma bila nak dapat test drive tu....tak pasti lah kan? Mungkin hujung minggu ini? Tunggu...
Ada sesiapa lagi yang sudah pandu uji? Harap dapat tinggalkan komen. Boleh kita share bersama pengalaman tersebut.