Ini adalah antara petikan tweets daripada warga Jepun yang terlibat dengan gempa bumi yang melanda Jepun jumaat lepas. Ringkas tetapi sangat menyentuh perasaan. Menunjukkan betapa masyarakat Jepun saling mengambil berat antara satu sama lain, dan bekerjasama membantu semua orang. Mereka begitu bersedia menghadapi gempa bumi, dan tenang menghadapi dugaan yang dasyat ini. Harus diingat, mereka ini kebanyakkannya tidak beragama tau! Tetapi sifat yang mereka tunjukkan begitu cantik sekali. Apa pun, bacalah cerita-cerita "1st hand" mereka ini.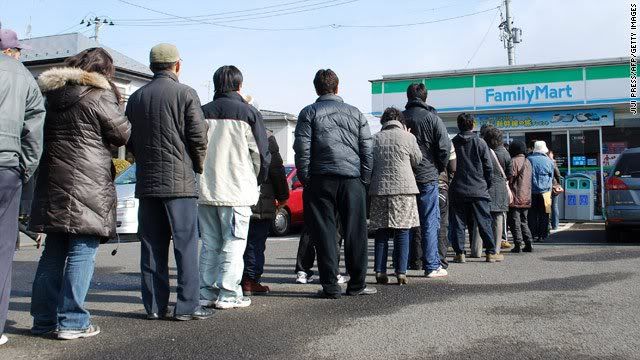 credits to the pic owner
(1)
ディ ズニーランドでは、ショップのお菓子なども配給された。ちょっと派手目な女子高生たちが必要以上にたくさんもらってて「何だ?」って一瞬思ったけど、その 後その子たちが、避難所の子供たちにお菓子を配っていたところ見て感動。子供連れは動けない状況だったから、本当にありがたい心配りだった。 -
@unosuke
At Tokyo Disneyland:
Tokyo Disneyland was handing out its shops' food and drinks for free to the stranded people nearby. I saw a bunch of snobby looking highschool girls walking away with large portions of it and initially though "What the …" But I later I found out they were taking them to the families with little children at emergency evacuation areas. Very perceptive of them, and a very kind thing to do indeed.
(2)
ホームで待ちくたびれていたら、ホームレスの人達が寒いから敷けって段ボールをくれた。いつも私達は横目で流してるのに。あたたかいです。 -
@aquarius_rabbit
Card board boxes, Thank you!
It was cold and I was getting very weary waiting forever for the train to come. Some homeless people saw me, gave me some of their own cardboard boxes and saying "you'll be warmer if you sit on these!" I have always walked by homeless people pretending I didn't see them, and yet here they were offering me warmth. Such warm people.
(3)
昨 日、裏の家の高1になるお兄ちゃんに感動した。 家に1人で居たらしく、地震後すぐ自転車で飛び出し近所をひと回り。 【大丈夫ですか―――!?】と道路に逃げてきた人達にひたすら声掛けてた。あの時間には老人や母子しか居なかったから、声掛けてくれただけでもホッとした よ。 ありがとう。 -
@RUMI88LoL
A strong voice
Yesterday, I was impressed and touched by the actions of my neighbor's 13-year-old-boy. He was home alone when the earthquake hit. But instead of hiding, as soon as the earthquake quieted down, he jumped on his bicycle and road around the block repeatedly shouting at the top of his voice, "Is everyone alright? Is everyone okay?" At the time, there were only women and children and the elderly in the homes. I cannot describe how comforting it was just to hear a strong voice asking if I was okay. Thank you!
+ + + + + + +
Lebih banyak lagi tweets di laman
facebook Jun Shiomitsu
. Beliau yang mengumpul tweets ni dan translate untuk dikongsi dengan semua.