Bermula dengan isu gambar butang tenggelam, kemudian pula isu kualiti welding di bahagian pintu. Hari ini kecoh lagi apabila terdapat satu set gambar yang menunjukan sebuah kereta pandu uji Proton Prevé mengalami kerosakan. Pelbagai spekulasi dan andaian timbul, sekaligus memberi impak negatif kepada produk terbaru keluaran PROTON itu.
Namun, bermula daripada tweet Hezeri Samsuri (editor Top Gear Malaysia) sedikit sebanyak memberi kelegaan kepada supporters Proton apabila mengetahui ianya berlaku akibat kemalangan (human error) dan bukan masalah kualiti atau part defect.
Lewat malam tadi, PROTON EDAR telah membuat satu kenyataan di laman Facebook mereka mengenai kejadian tersebut. Sila rujuk screenshot dan caption di bawah.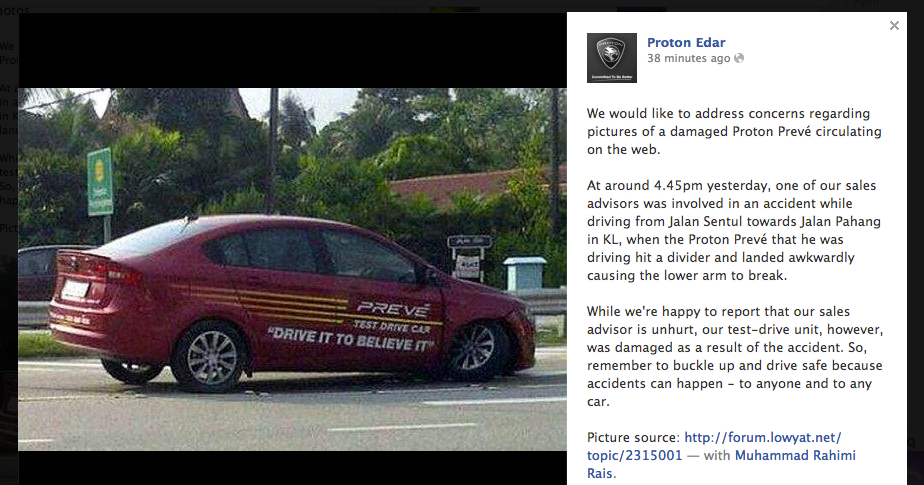 We would like to address concerns regarding pictures of a damaged Proton Prevé circulating on the web.


At around 4.45pm yesterday, one of our sales advisors was involved in an accident while driving from Jalan Sentul towards Jalan Pahang in KL, when the Proton Prevé that he was driving hit a divider and landed awkwardly causing the lower arm to break.


While we're happy to report that our sales advisor is unhurt, our test-drive unit, however, was damaged as a result of the accident. So, remember to buckle up and drive safe because accidents can happen - to anyone and to any car. - Proton Edar Facebook Page
Di harap dengan penjelasan ini, masyarakat umum sedar situasi sebenar dan tidak mudah terpedaya dengan fitnah dan spekulasi sesetengah pihak. Jangan takut untuk pandu uji sendiri dan alami pengalaman pemanduan kereta PROTON terbaru ini. Anda pasti tidak menyesal!
p/s : dikhabarkan tempahan sudah pun mencapai angka 3ribu unit. Dan esok merupakan hujung minggu pertama sejak model ini dilancarkan. Dijangka tempahan akan meningkat dengan mendadak pada hujung minggu ini.